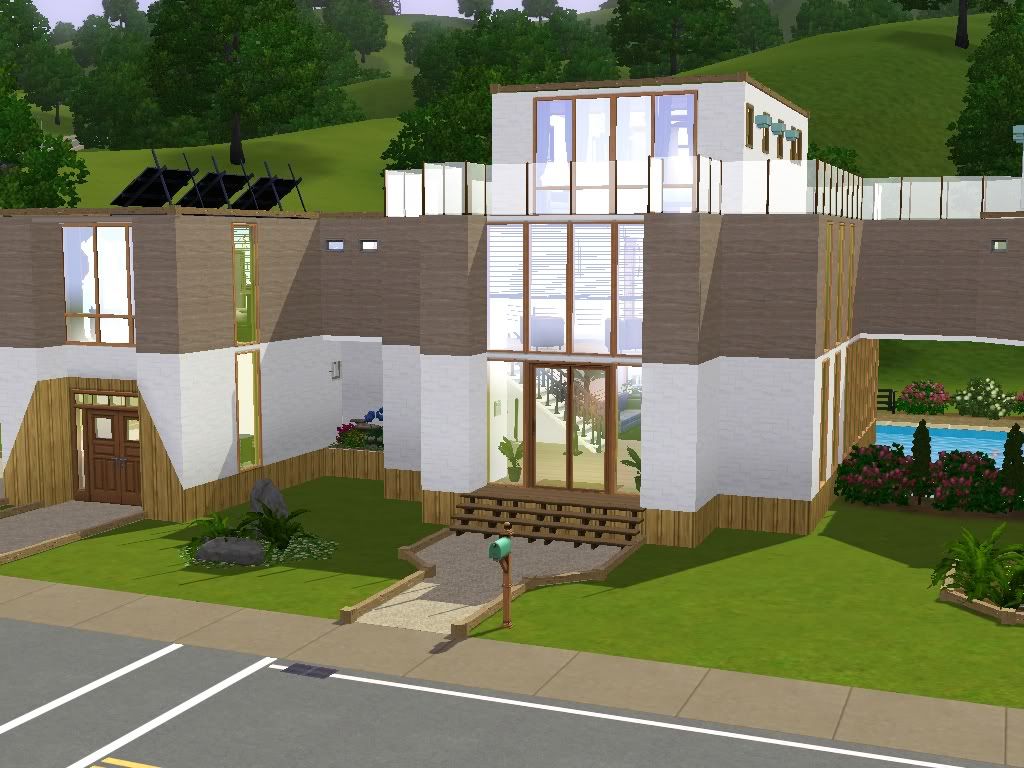 Download
Jasnik's Dream Home was built for the town of TSS, over at The Simmers Society. It took me a long time as I had to keep going back to it, in between other commitments in the Sims community.
My inspiration for this lot, came when I was on holiday at Las Vegas. While there, I made a floor plan and incorporated many interesting things I saw there. One major inspiration was the atrium style sitting room that overlooks the pool. I wanted my sim to be able to relax in beautiful surroundings, so she is spoiled with areas to sit and just enjoy the quiet or to spend time with friends. There is a poolside patio with loungers and a chess table; also there is a rooftop patio with BBQ and seating. There is access to a bar from the rooftop patio, so no need to trek all the way to the kitchen. Having friends over I felt having a pool house would be appropriate, don't want people walking through the house dripping wet. Also the home cinema is perfect to have friends over to watch the big game. Go Chelsea! There is a guest suite for when they don't want to drive home after a glass or two of nectar.
Seeing as this is my dream home I have included other features that reflect my personality. I just love the office/studio, for sewing, making floor plans, simming and many other hobbies and interests. I love to cook great meals, so I made a feature of the kitchen, one of my favourite parts is the island with seating and a butchers block. Now every creator needs a place to unwind and refuel all that creative energy, so what better than plenty of baths to soak in, and a sauna in the pool house.
This house has two double bedroom suites, 2 bathrooms, pool with pool house and sauna, a laundry room, luxury feature kitchen, dining area, home cinema, large office/studio, and two garages.
Well I hope you like it, and as always please don't forget to leave me a comment and recommend.
Slideshow