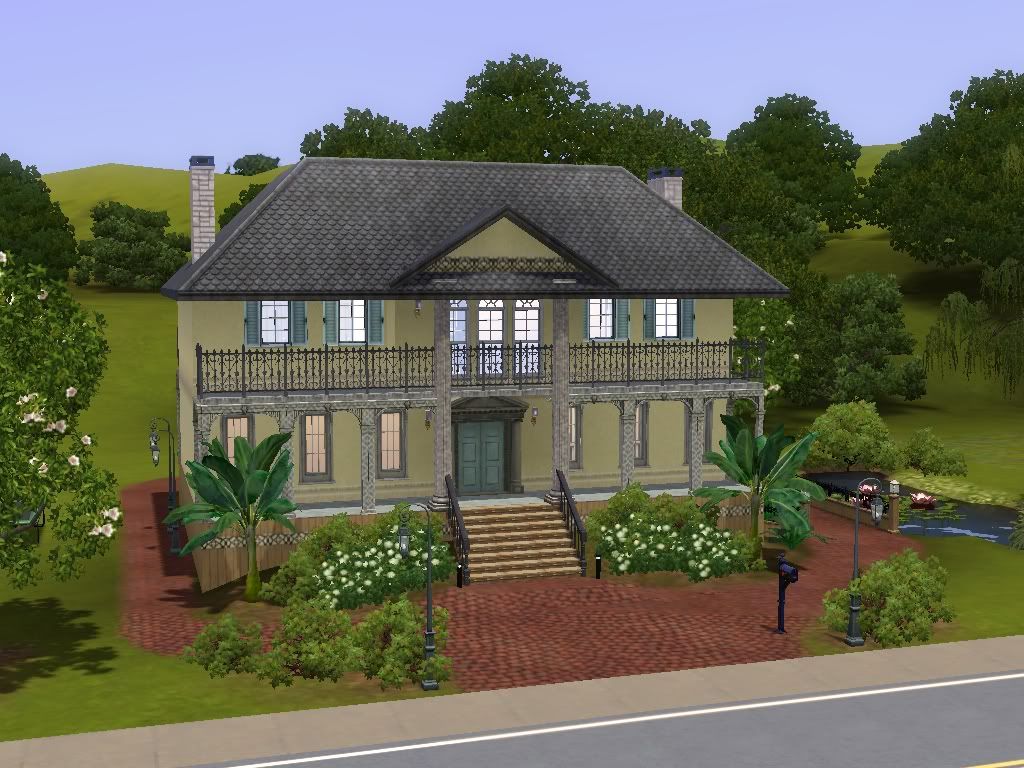 Download
I started this build for the Simmers Society project to revamp Twinbrook. We could chose from several styles found in the New Orleans area. I had not built in this style before so it was fun to try something different. I decided to go with a double gallery house and began building on 162 Savannah Lane. After much playing around I finally combined the use of columns and arches to create the style, then finished the look off by using a lacy pattern on the arches and some of the roofline. I found the interior layout to be very challenging, as I knew I wanted to have a double stairway. My stubbornness makes life so hard. I made it work after much trial and error, and I am pleased with the result. I would have preferred a little more space in the kitchen, but it does contain all your Sims would need.
For the interior decor I tried to follow a French style using bright and airy colours for most of the house, and then more opulent rich colours for certain rooms. My absolute favourite part of this house has got to be the master bedroom suite. It has a large bedroom which leads through the dressing room and into a luxury bathroom. I just love the layout and decor here.
The landscaping all began with the idea of old red bricks. I had a shape in mind for the path, and then filled in here and there with plants that seemed appropriate for the region. During my research I found that most gardens were more green rather than many splashes of colour, with some tropical plants. The pond and bridge came about after surrounding a bed with a wall. I thought it would look nice to put another wall alongside it to create the effect of a bridge, and then I created the pond to finish it off. A few magnolia trees and I was all done.
This took me longer than the average build because I was researching and learning along the way. Also I changed things many times until I felt I had got it right. Hopefully it was all worth it, and many simmers enjoy playing it as much as I enjoyed creating it.
Slideshow